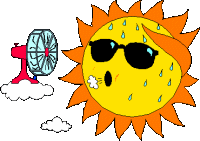 Diese feuchte Hitze ist nicht mein Wetter! Deshalb zur Zeit wenig Blogbeiträge, obwohl ich doch einiges zeigen könnte :) .... Bis gerade habe ich draußen gesessen (1:46 h) und mit meiner Akkuleuchte wenigstens mal ein bisschen gestrickt - hier drinnen sind trotz Durchzug und Ventilator nämlich immer noch 30°C .....Denken und Schreiben geht nicht, deshalb nur ein paar Impressionen von uns Schattensuchern.
This damp heat isn't my kind of weather! That's the reason for my writing seldom the last days - though I could show you some new knits :). I've been sitting outside up to now (1:46 a.m.) to knit at least a bit under my accu lamp - here in the room there are still 86°F in spite of the fan running and draft in every direction ....
Thinking and writing don't work, so just a few impressions of us looking for a shady place.