Die Weste ist endlich fertig! Und eigentlich müsste sie "Ribbel-Sinfonie" heißen, denn das habe ich dabei reichlich und genug getan ... und zuletzt noch eine komplette Naht im Maschenstich wieder aufgemacht, weil ich mich bei den Maschen verzählt hatte ...
My vest is finally finished!
Actually its name should be "Frogging Synphony" - I did a lot of it twice and thrice. My last mistake was a complete kitchener stitch seam that I had to open and do again because I had miscounted stitches ....
Hier könnt ihr Birgit bei der
Arbeit sehen, nachdem sie ihre heutige Strophe des Himmelstagebuchs geswingt hat. Das Bild des ersten Quartals 2012 ist fast fertig, sie ist schon bei den oberen Ecken.
Here you can see Birgit at work after she swing-knitted her daily stanza of her Sky Journal. The wall picture of the first quarter of 2012 is nearly finished. She is currently knitting the upper corners.
Brigitte nadelt emsig an ihrem neuen Teil, einem Moebius mit Doppel-strophen, obwohl sie durch ihre Erkältung ganz schön fertig ist - bis jetzt stecken 240 helle und dunkle Nadeln darin ...
Brigitte is busily working on her new Swing knit, a Moebius with twin stanzas. Her cold makes her feel quite drained. Up to now she has 240 light and dark pins in her design ...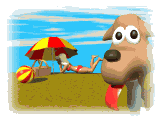 Es ist einfach toll, so ein paar Tage gemeinsam zu stricken, zu arbeiten, zu lernen und Spaß zu haben!
It's really wonderful to have a few days off, to knit and work and learn and have fun!
... und wir warten schon ganz gespannt auf das 1000ste Gruppenmitglied in unserer Ravelry-Gruppe!
... and we are very excited to welcome the 1000th member of our Ravelry group very soon!